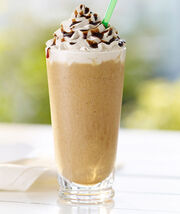 One of very many of the frappuccinos at Starbucks. Frappuccino roast coffee blended with milk and ice, topped with our new Espresso whipped cream and new Italian Roast Coffee Drizzle.
Nutrition Facts
Edit
Nutrition Facts Per Serving (16 fl oz)
Calories 380
Calories from Fat 140
% Daily Value*
Total Fat 16g
25%
Saturated Fat 10g
50%
Trans Fat 0g
Cholesterol 55mg
18%
Sodium 230mg
10%
Total Carbohydrate 55g
18%
Dietary Fiber 0g
0%
Sugars 53g
Protein 4g

Vitamin A

15%

Vitamin C

0%

Calcium

15%

Iron

0%

Caffeine 105mg**
Description
Edit
A classic combination of our signature Frappuccino® roast coffee and milk, blended with ice. Topped with our new Espresso whipped cream, and new Italian Roast Coffee Drizzle.
This Frappuccino is probably the least sweet Frappuccino on the menu since there are no added syrups. It has a pleasant coffee flavor and an almost frothy consistency. Like most Frappuccinos, it's not as thick, rich, or creamy as a milkshake but still delivers a milky creaminess and is frosty cold.
The espresso whipped cream was really good with a decidedly smooth hit of coffee with very little bitterness and not too much sweetness. The Italian Roast Drizzle offers a similar but more intense (and sweet) flavor with some chocolaty notes. Mixed into the Frappuccino, it lends a double whammy of cream and coffee.