Oprah Chai Tea Latte

Drink

Basic Information
Popularity:
Medium
Flavor:
cinnamon, black tea and rooibos infusion
Drink Type:
tea latte
Other Information
Abbreviation:
TOC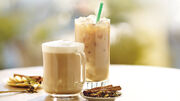 Created in partnership with
Oprah Winfrey
and Teavana teaologists, this distinctive chai blend features a bold infusion of cinnamon, ginger, cardamom and cloves, blended with loose-leaf black tea and rooibos. Lightly sweetened and finished with steamed milk.

With the sale of each Teavana Oprah Chai product we will make a donation to the Oprah Winfrey Leadership Academy Foundation to benefit youth education.
Ad blocker interference detected!
Wikia is a free-to-use site that makes money from advertising. We have a modified experience for viewers using ad blockers

Wikia is not accessible if you've made further modifications. Remove the custom ad blocker rule(s) and the page will load as expected.