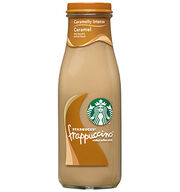 A rich blend of coffee, milk and buttery caramel taste – ready to go.
Nutrition Facts
Edit
Nutrition Facts Per Serving (9.5 fl oz)
Calories 200
Calories from Fat 30
% Daily Value*
Total Fat 3g
5%
Saturated Fat 2g
10%
Trans Fat 0g
Cholesterol 15mg
5%
Sodium 100mg
4%
Total Carbohydrate 37g
12%
Dietary Fiber 0g
0%
Sugars 32g
Protein 6g

Vitamin A

0%

Vitamin C

0%

Calcium

20%

Iron

0%

Caffeine 65mg**
Ingredients
Edit
brewed starbucks coffee (water, coffee), reduced-fat milk, sugar, maltodextrin, natural and artificial flavor, pectin, ascorbic acid
Description
Edit
Ever had this serendipitous moment? You're riding a bike in a city or tree-lined park, lost in your bikey thoughts, then BAM! There's the sun flashing "Huzzah!" to you through a vista of skyscrapers or leafy canopy. A bottle of Caramel Frappuccio® drink is kind of like that – only you can pop the cap on this mix of rich arabica coffee and luscious golden caramel whenever you want. Don't forget to shake before drink it.