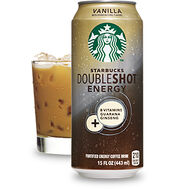 An invigorating blend of espresso, lowfat cream, vanilla, guarana and ginseng.
Nutrition Facts
Edit
Nutrition Facts Per Serving (15 fl oz)
Calories 210
Calories from Fat 20
% Daily Value*
Total Fat 2.5g
4%
Saturated Fat 1.5g
8%
Trans Fat 0g
Cholesterol 15mg
5%
Sodium 180mg
8%
Total Carbohydrate 34g
11%
Dietary Fiber 0g
0%
Sugars 25g
Protein 12g

Vitamin A

8%

Vitamin C

50%

Calcium

40%

Iron

2%

Caffeine 145mg**
Ingredients
Edit
starbucks coffee (water, coffee), reduced fat milk, skim milk, sugar, maltodextrin, dextrose, taurine, cellulose gel, natural flavor, panax ginseng root extract, inositol, sodium ascorbate , guarana (paullinia cupana) seed extract, cellulose gum, niacinamide, sucralose, ascorbic acid (vitamin c), tricalcium phosphate, pyridoxin hydrochloride (vitamin b6), riboflavin, vitamin a palmitate, vitmain d3.
Description
Edit
Indulge yourself and stay energized with Starbucks Doubleshot® Energy Vanilla. It's a powerful mix of espresso and B vitamins, guarana and ginseng – to which we add vanilla and lowfat cream to give this drink a delicious finish. Find it at a Starbucks near you, or at participating grocery and convenience stores.
The Vanilla version of Starbucks Doubleshot Energy+Coffee definitely is more appropriate for sweettooths when compared to the Coffee version. Like similar beverages in the carbonated soft drink world, the vanilla flavoring adds a smoothness and creaminess that typically is not there. As before, this drink is not carbonated, but thicker than a standard soft drink.
Guarana is an effective energy booster – it contains about twice the caffeine found in coffee beans.